What travelers love about Aclass Legend Cruise
Style: Traditional
Very suitable for families, groups of friends,...
Surprisingly really good food with abundant dishes
Helpful and polite staffs
Incredibly friendly and brilliant guide
Suitable for families and special events: honeymoon, wedding anniversary, birthday,...
Beautiful dinner with steamed prawns on hot rocks right in front of your eyes
Peaceful time at night to sit upstairs with drinks and make new friends
Interesting cooking demonstration with Vietnamese spring rolls
Shuttle bus and kayaking service included in the price
" I did an amazing cruise, 2 days 1 night. Food was very good, confortable room, friendly staff, helpful guide. Ans Sophie was a great attendant, very friendly.
Stellar cruise in Halong Bay - Brazil Read more... Hide
Select Aclass Legend Cruise Packages with Best Offers
Aclass Legend Cruise: Itineraries & Routes
Launched in 2014, Aclass Legend Cruise is a brand new cruise in Aclass Cruises family which is popularly known as the top leader of leisure and entertainment for cruising in the famous Halong Bay and had more than 12 years of experiences in providing this service for tourists all over the world. It has brought thousands of passengers to the most fantastic parts of the world heritage site, Halong Bay and help them enjoy one of the most memorial experiences in their lives. Aclass Legend Cruise hosts 14 luxury guest rooms, suites and public areas furnished with beautiful amenities and elegant wooden furnishings offering a tranquil and peaceful atmosphere. Aclass Legend crew also gives passengers the first-class service during the journey to make vacation be an unforgettable and unique experience.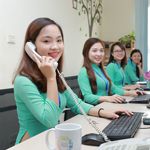 Being Halong bay cruise experts with over 10 years of experience.
Let us help you!
Halong Bay Cruises team is grateful to bring you a cruise vacation that will exceed your greatest expectations and offer you exceptional value. With the confidence and knowledge to find the right Halong bay cruise choice, we are always here to listen and arrange everything as your desire. Don't hesitate to send us your requests. We will send you the best offers shortly!
Help me find a cruise