What travelers love about Alisa Premier Cruise
Style: Modern
Feature 22 elegant cabins, most equipped with separate balconies and bathtubs
Many connecting rooms ideal for families and groups of friends
Traditional schedule to visit Surprise Cave, Pearl Farm, Titov Island...
Travel by high-class Limousine or Shuttle bus (Depending on the needs of guests)
A wide range of modern facilities: Swimming Pool, Spa & Massage Room, Gym Room,...
Savor the best cuisine on board and highlights of a cooking demonstration
" Everything was good. (room condition, meal and crew etc.) also I didn't know you would do a my mother birthday event and I was surprised. Thank you for crews and Sophie.
Awesome experience. - South Korea Read more... Hide
Select Alisa Premier Cruise Packages with Best Offers
Room Types
Max
Rates

Junior Suite Ocean View

Room with balcony

3 Rooms
Ocean view
Double/twin
25 m²
First and third deck

Check rates

More info »

Senior Suite With Private Balcony

Room with balcony

13 Rooms
Sea view
Double/twin
22 m²
First deck, Second deck and Third deck

Check rates

More info »

Senior Triple Suite Private Balcony

Room with balcony

8 Rooms
No view
Triple
25 m²
First and Second Deck

Check rates

More info »

Royal Suite With Private Balcony & Jacuzzi

Room with balcony

3 Rooms
Ocean view
Double
35 m²
Second and Third Deck

Check rates

More info »

Family Suite Connecting Private Balcony

Room with balcony

Connecting room

3 Rooms
Ocean view
Double/twin
46 m²
First and Second Deck

Check rates

More info »
Alisa Premier Cruise: Itineraries & Routes
2
Days
Price from
$163 $130
Aimed to make your stay a truly unique and unforgettable experience, Alisa Premier Cruise is a brand-new luxury steel cruise ship with the highest safety standards and well researched itineraries around Halong Bay and Lan Ha Bay. This 5-star yacht houses 22 luxurious separate rooms, most of which are fully equipped with private balconies, Jacuzzi tubs, and satellite TV. The cruise also offers a wide range of on-board high-class facilities such as an elegant restaurant with panoramic views, outdoor bar, seasonal swimming pool, gym room, beauty spa & massage room. Come to Alisa Premier Cruise, your Halong Bay discovery journey will be a truly extraordinary travel experience.
Well Researched Itineraries Around Halong Bay and Lan Ha Bay
Alisa Premier Cruise offers all travelers a truly unique and well-designed itinerary when combining the most alluring destinations around Halong Bay and Lan Ha Bay together. Meanwhile the 2-day trip takes visitors to the most famous places like Titov Island or Sung Sot Cave, the 3-day journey will allow you to experience the pristine beauty of Lan Ha Bay with visits to Dark & Bright Cave and Ba Trai Dao Beaches.
True Fine Dining Experience
Promising to bring diners the most quintessential flavors of Halong Bay, every meal at Alisa restaurant is carefully cared for by the chef team of Alisa Premier Cruise, using fresh local ingredients. What is a great moment when you have a romantic dinner with your beloved one under the sparkling lights, listen to soothing music, and watch the night sea.
Enjoy A Superb Range of Activities
You will never feel bored during your voyage with Alisa Premier Cruise with a long list of exciting on-board and off-board activities. Take your time to soak in the seasonal swimming pool or relax with a spa treatment, enjoy a cool drink at the outside bar or sunbathe on the spacious sundeck. If you are an adventure seeker, try hiking on Titov Island, kayaking around Luon Cave or swimming on the beautiful beaches of Ba Trai Dao. All will give you enchanting and unforgettable moments of a lifetime.
Titov Island (also known as Titop Island) is one of the most popular destinations on Halong Bay located in the heart of Halong Bay, and only 8 kilometers south-east of Bai Chay Harbour. Many international and domestice visitors choose a day cruise or overnight cruise on the crowded Halong Bay instead of other lesser touristy bays because for...
Located in the central area of the bay in Bo Hon Island, Sung Sot Cave is the most beautiful and spacious cave which is one of must-visit attractions in Halong Bay. Covering a total area of over 10,000 square meter, Sung Sot cave is described as an "Opera House" with thousands of magic stalactites and stalagmites in various...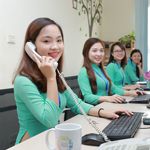 Being Halong bay cruise experts with over 10 years of experience.
Let us help you!
Halong Bay Cruises team is grateful to bring you a cruise vacation that will exceed your greatest expectations and offer you exceptional value. With the confidence and knowledge to find the right Halong bay cruise choice, we are always here to listen and arrange everything as your desire. Don't hesitate to send us your requests. We will send you the best offers shortly!
Help me find a cruise