What travelers love about L'Azalee Day Cruise
Select L'Azalee Day Cruise Packages with Best Offers
L'Azalee Day Cruise: Itineraries & Routes
L'Azalee Day Cruise is a perfect option for a Halong Bay day tour that allows passengers to fully enjoy the majestic beauty of the incredible UNESCO World Heritage Site, while being served by prefessional and attentive staff in a 5-6 hour voyage. With high-quality facilities and warm service, this promising day cruise brings to tourists memorable experiences amidst the stunning atmosphere of Halong Bay.





Western & Asian fusion buffet lunch
Let's immerse yourself in breath breaking view of Halong Bay while enjoy our lunch buffet. Combination between Western and Asian food will bring you unforgetable moment in the trip to Halong Bay
Colourful decor with comfortable seating, sun beds and sun shade.
With a unique design and premium facilities, guests can contemplate the epic creations of nature either from comfortable seats under the sun on the upper deck, or take in panoramic views through the large windows on the lower deck while enjoying the refreshing air-conditioning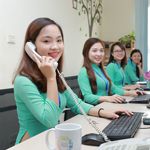 Being Halong bay cruise experts with over 10 years of experience.
Let us help you!
Halong Bay Cruises team is grateful to bring you a cruise vacation that will exceed your greatest expectations and offer you exceptional value. With the confidence and knowledge to find the right Halong bay cruise choice, we are always here to listen and arrange everything as your desire. Don't hesitate to send us your requests. We will send you the best offers shortly!
Help me find a cruise