What travelers love about Sapphire Cruise
Overnight programs in Lan Ha Bay - an extension of Halong Bay
2.5-hour convenient transfer by the new highway Hanoi - Hai Phong - Hanoi
Less touristy spots in Lan Ha Bay for unwinding and relaxing
Various on and off-board: kayaking, swimming, boating, tai-chi class, cooking class, etc
Visit Viet Hai Village by cycling (applied for 3 days 2 nights package only)
Accommodated cabins with balcony, bathtub and modern amenities
Friendly and experienced staff
" Used the Inside travel company for booking our trip to Halong bay on Sapphire cruise. Our trip advisor Ms Sophie was highly knowledgeable and helped us book our journey in a short span of time. She also kept us updated with all the useful information.

We had a wonderful experience on Sapphire cruise and all of our request were granted. I also happen to celebrate my wife's birthday on the cruise for which there was a special cake cutting ceremony too. All of which was sponsored by the cruise. A big thanks to the Inside Travel for arranging everything.
Sapphire Cruise Halong Bay - India Read more... Hide
Select Sapphire Cruise Packages with Best Offers
Sapphire Cruise: Itineraries & Routes
Sapphire Cruise is a modern deluxe cruise that manages overnight itineraries mainly in Lan Ha Bay - an extension of Halong Bay. With 22 spacious cabins and modern style, Sapphire will take you to discover the hidden charm of Halong - Lan Ha Bay with the magnificent limestone islets, secluded spots, and outstanding sites here. With many years experiencing in Halong Bay's cruise service, Sapphire Cruise is a great option among mid-range cruises that could meet your expectation for a memorable trip with nature, sceneries, and people.
2.5 hour convenient transfer by the new highway
Following the trend of the new transfer route, Sapphire Cruise using the 5B highway that shortens transfer time to 2.5 hours driving only. Hence pick up time from Hanoi in the morning will be later than cruises using normal roads. Fast and convenient transportation method from Sapphire promises to bring great comfort right from the first step.
Wonderful discovery of Lan Ha Bay - an extension of Halong Bay
Not as busy as Halong Bay, Lan Ha Bay possesses the beauty of well-off-beaten-track with the untouched and peaceful vibe from karst formations to floating villages, hidden beaches, and lagoons. Overnight itineraries from Sapphire Cruise will take you to the less touristy parts of Lan Ha Bay with various activities both onboard and off-board.
Well-furnished amenities
The ship is designed in a modern style with a deluxe classic vibe. Also, all room types from Sapphire Cruise are accommodated fine amenities with bathtub. Spacious cabins and elegant decor will definitely make it a wonderful trip to Lan Ha Bay to you.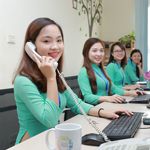 Being Halong bay cruise experts with over 10 years of experience.
Let us help you!
Halong Bay Cruises team is grateful to bring you a cruise vacation that will exceed your greatest expectations and offer you exceptional value. With the confidence and knowledge to find the right Halong bay cruise choice, we are always here to listen and arrange everything as your desire. Don't hesitate to send us your requests. We will send you the best offers shortly!
Help me find a cruise