What travelers love about Serenity Luxury Day Cruise
Taking Highway 5B to minimize the traveling time from Hanoi to Halong down to only 2.5 hours.
7 hours discovery of Halong Bay – Lan Ha Bay.
Admire the magnificent beauty of towering karst formations over the sea
Modern and luxurious design
Spacious day cruise with three decks with capacity up to 60 guests
Unique cuisine experience onboard.
Visiting Trung Trang Cave, a beautiful cave in Cat Ba National Park
Explore Dark and Bright Cave, a must-visit stop in Lan Ha Bay by kayaking
Select Serenity Luxury Day Cruise Packages with Best Offers
Serenity Luxury Day Cruise: Itineraries & Routes
As a great 3-star day cruise from Serenity Cruises, Serenity Luxury Day Cruise offers travelers a great cruise program discovering both Halong and Lan Ha Bay as well as excellent services from a professional crew. Tourists will enjoy a fascinating 7-hour voyage sailing deep into the pristine Lan Ha Bay, an extension of Halong Bay with various outdoor activities. This day cruise is surely an ideal option for anyone seeking cruise experience in World Heritage Site within a day.
Easy and convenient transfer
Serenity Day Cruise offers the most innovative transfer on the 5B Highway Hanoi - Hai Phong - Halong to minimize the traveling time from Hanoi to Halong down to only around 2.5 hours. Aiming to shorten transfer time as much as possible, Serenity Luxury Day Cruise transfer team will bring to guests the most satisfaction.
Long and unique cruising route
With 7 hours aboard, Serenity Day Cruise will take you to the most prominent spots in Lan Ha Bay within a day. Setting sail from Tuan Chau Marina in Halong Bay, guests will have a chance to admire the beauty of both Halong and Lan Ha Bay during the wonderful trip that Serenity possesses.
Enjoyable itinerary with outdoor activities
Discovering Halong - Lan Ha Bay, Serenity Day Cruise maximizes your experience here with intriguing outdoor activities such as kayaking/ bamboo boat, exploring caves, swimming or sunbathing, etc. Just take time to partake in these experiences and your voyage to the Heritage Sites could not be better.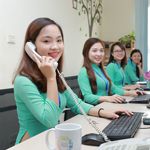 Being Halong bay cruise experts with over 10 years of experience.
Let us help you!
Halong Bay Cruises team is grateful to bring you a cruise vacation that will exceed your greatest expectations and offer you exceptional value. With the confidence and knowledge to find the right Halong bay cruise choice, we are always here to listen and arrange everything as your desire. Don't hesitate to send us your requests. We will send you the best offers shortly!
Help me find a cruise