What travelers love about JadeSails Day Cruise
Style: Modern
The only luxury cruise exploring the Lan Ha Bay for day tour
Experiencing an unforgettable vacation by getting away from crowds and the standard route
Enthusiastic, dynamic, well trained and dedicated staff
Customer Service available 24/7
2 hours riding luxurious comfort limousine via new expressway
7-hour cruise exploring the most beautiful parts of the bay
Cooking demonstration and sunset party onboard
Kayakand or local rowing boat trip through an array of stalagmite caves leading into hidden lagoons
Swimming in a quiet area with amazing backdrop
Seeing the genuine float houses of local fisher folks
Cycling in Viet Hai village
Group of 8 people riding a comfortable limousine
" Very professional, responsive and patient. I must have asked a million questions but she replied them all patiently to make sure we can get on the trip we wanted. She booked us on the perfect cruise at Halong Bay. Exactly how we wanted. Even contacted us days after for a refund that was offered by the cruise. Amazing service. If you can, look for Sophie to assist you. Very personable and you are in great hands.


Great tour support by Sophie - Read more... Hide
Select JadeSails Day Cruise Packages with Best Offers
JadeSails Day Cruise: Itineraries & Routes
Designed in a unique and elite sailboat style, JadeSails is proud of the only luxury day cruise exploring the pristine Lan Ha Bay. Despite offering day tour, the cruise is fully equipped with 02 restaurants serving set menu & buffet meals, a sundeck, a spa and gym room, and a lounge bar & café. With luxury cruise services and a carefully researched itinerary, JadeSails will definitely provide passengers a truly unique and unforgettable experience in the natural wonder of Halong Bay.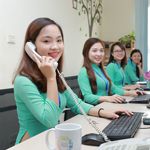 Being Halong bay cruise experts with over 10 years of experience.
Let us help you!
Halong Bay Cruises team is grateful to bring you a cruise vacation that will exceed your greatest expectations and offer you exceptional value. With the confidence and knowledge to find the right Halong bay cruise choice, we are always here to listen and arrange everything as your desire. Don't hesitate to send us your requests. We will send you the best offers shortly!
Help me find a cruise