What travelers love about Halong Sen Day Cruise
Style: Traditional and Contemporary
New nice steel boat meticulously designed for a luxury adventurous day trip in Halong Bay
Kayak through mysterious hidden corners around Ba Hang
Explore the splendor of sparkling stalagmites in Thien Cung Cave
Participate in a hands-on cooking class on the sundeck
Taste Vietnamese lotus tea served with delicious candied lotus seeds
Select Halong Sen Day Cruise Packages with Best Offers
Halong Sen Day Cruise: Itineraries & Routes
Halong Sen Cruises is a trademark belonging to Athena Group, an exquisite five-star luxury cruising brand in Ha Long Bay. Launched on December 9th 2017, the brand new Halong Sen Cruises is a delicate work of art catering for guests who wish to discover the core beauty of the world natural heritage site without abundance of time.
Thien Cung Cave (also known as Heavenly Palace Cave) is located north of Dau Go Island, 4 km from the tourist port. As one of the most beautiful caves on Halong Bay thanks to its huge space area, there are many chambers inside with numerous limestone stalactites and stalagmites in strange shapes.Located right near Dau Go cave, the cave is...
Dau Go Cave is one of the most beautiful caves on Halong Bay, located on Dau Go Island about 6 km from Bai Chay Harbour and only 300 meters from Thien Cung Cave. The cave has the ancient and unspoiled beauty with many stalagmites in special and strange shapes.Located at 27 meters above sea level, the cave entrance is...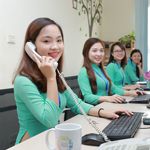 Being Halong bay cruise experts with over 10 years of experience.
Let us help you!
Halong Bay Cruises team is grateful to bring you a cruise vacation that will exceed your greatest expectations and offer you exceptional value. With the confidence and knowledge to find the right Halong bay cruise choice, we are always here to listen and arrange everything as your desire. Don't hesitate to send us your requests. We will send you the best offers shortly!
Help me find a cruise