What travelers love about Scarlet Pearl Cruise
Style: Modern and boutique
Newest and largest cruises in Halong Bay with 23 rooms - expectantly launched this August ( 2019)
Perfect choice for not only couples but also big families with children
Reasonable price
Friendly and helpful staff
Large and well-furnished cabins equipped with private sun terrace and Jacuzzi
Only 2.5 hours driving from Hanoi center on high way roads to the cruise
Only 30 minutes driving to Cat Bi Airport (Hai Phong)
Cycling in Hai Viet Village (Cat Ba Island) on the second day (apply for 3 days tour)
Kayaking, swimming all included
Choose your package & check rates now
Room Types
Max
Rates

Silver Pearl

Room with balcony

Connecting room

16 Rooms
Sea view
Double/twin
28 m²
First and Second Floor

Check rates

More info »

Golden Pearl

Room with balcony

4 Rooms
Sea view
Double/twin
40 m²
Second Floor

Check rates

More info »

Onyx Pearl

Room with balcony

2 Rooms
No view
Double/twin
60 m²
Second Floor

Check rates

More info »

Scarlet Pearl

Room with balcony

1 Rooms
Sea view
Double/twin
150 m²
Second Floor

Check rates

More info »

Family Silver Pearl connecting

Room with balcony

Connecting room

4 Rooms
Sea view
Double/twin
First Floor

Check rates

More info »
Scarlet Pearl Cruise: Itineraries & Routes
Scarlet Pearl Cruise is one of the newest and biggest 5-star cruises in Halong Bay. Scarlet Pearl Cruises features 4 suites with 23 spacious luxury cabin spreading across the first and second decks. All cabins offer well-facilitated bathrooms, panoramic windows, and impressively amazing ocean views from a full-furnished balcony. Further in-room amenities include a daily-refilled minibar and smart control system. The cruise offers guests unforgettable moments with high-quality service coming along with a unique architecturally design that breathes the breath the tradition of philosophy of North Vietnam and the classic charm of the Norwegian construction.

Thien Canh Son is a rather unspoiled cave located on Bai Tu Long Bay in the Cong Do Conservation Area. The cave is well known for its unique natural beauty and picturesque surrounding scenery, which allure thousands of visitors coming to this off-the-beaten-track area of the World Heritage Site.Inside the cave,...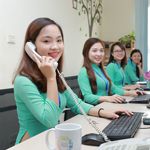 Being Halong bay cruise experts with over 10 years of experience.
Let us help you!
Halong Bay Cruises team is grateful to bring you a cruise vacation that will exceed your greatest expectations and offer you exceptional value. With the confidence and knowledge to find the right Halong bay cruise choice, we are always here to listen and arrange everything as your desire. Don't hesitate to send us your requests. We will send you the best offers shortly!
Help me find a cruise