What travelers love about Swan Cruise
Style: Vietnamese traditional wooden style
Large sundeck with tanning chairs
Comfort bedding, Air-conditioning
Humorous and knowledgeable English speaking guide
Magical kayaking with beautiful scenery
Ideal choice for family with triple room and family connecting room
Fantastic staffs who are very informative and helpful
Tasty dishes with abundant food
" Look for Phuong Nguyen. She took care of us the whole trip via whatsapp. I communicate to her any problems I encounter on my tours from airport pickup to tours up to the airport drop off as the drivers dont normally speak english and there is no way to communicate. Good thing Phuong was there all the time. She calls the driver to communicate our needs, she suggests places to visit and restaurant to try. She even gave a free airport transfer going back! Thank so much! She also provides best practices and practical advices. I would look for her on my next Asia trip.Jayson,ManilaSept 2018
Very accommodating - Philippines Read more... Hide
Select Swan Cruise Packages with Best Offers
Swan Cruise: Itineraries & Routes
Born in 2015, Swan Cruise is the new member of Halong Bay Cruises but has impressed a large number of tourists for its distinctive beauty and services. It bears the swan image which brings classic simple beauty and stands for elegance, luxury, legendary, and faithful characteristics. Swan Cruises own five twin, two family connecting rooms and one triple cabin which are the harmonious combination between traditional materials as quality wood and bamboo by professional artisans. They also offer all necessary and modern amenities like a 3-star hotel for your satisfaction. The chef and crew staff who are selected and well-trained will be always enthusiastic, honest, highly responsible and willing to support as well as high-class services will bring the safety and unforgettable journey for you and your family.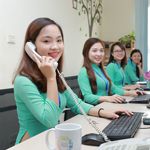 Being Halong bay cruise experts with over 10 years of experience.
Let us help you!
Halong Bay Cruises team is grateful to bring you a cruise vacation that will exceed your greatest expectations and offer you exceptional value. With the confidence and knowledge to find the right Halong bay cruise choice, we are always here to listen and arrange everything as your desire. Don't hesitate to send us your requests. We will send you the best offers shortly!
Help me find a cruise