What travelers love about M Gloria Cruise
Style: Indochine with Traditional sail
Newest premier cruise in Halong Bay - Lan Ha Bay with 20 luxurious rooms
Ideal choice for not only couples but also big families with children
Dynamic, well trained and dedicated staff
Large and well-furnished cabins equipped with private balcony
Only 2.5 hours driving from Hanoi center on high way roads to the cruise
Unique and different cruising route with a visit to Hoa Cuong Cave
Cycling in Viet Hai Village (Cat Ba Island) on the second day (apply for 3 days tour)
Offering a variety of relaxing and challenging activities
Kayaking, swimming all included
" Sophie from Inside Travel conpany, was very helpful in arranging and suggesting the best Halong Bay cruise.

I thoroughly recommend Sophie as a very professional and trustworthy travel agent.
Sophie our wonderful travel agent. - Read more... Hide
Select M Gloria Cruise Packages with Best Offers
Room Types
Max
Rates

Junior Suites With Private Balcony

Room with balcony

Connecting room

10 Rooms
Ocean view
Double/twin
26 m²
First Floor

Check rates

More info »

Connecting Junior Suites Balcony

Room with balcony

Connecting room

2 Rooms
Ocean view
Double/twin
52 m²
First Floor

Check rates

More info »

Senior Suites With Private Balcony

Room with balcony

Connecting room

6 Rooms
Ocean view
Double/twin
26 m²
Second Floor

Check rates

More info »

Connecting Senior Suites Balcony

Room with balcony

Connecting room

2 Rooms
Ocean view
Double/twin
52 m²
Second Floor

Check rates

More info »

Honey Moon Suite With Private Balcony

Room with balcony

2 Rooms
Ocean view
Double
40 m²
Second Floor

Check rates

More info »

Triple Junior Suite with Balcony

Room with balcony

1 Rooms
Sea view
Double/twin
26 m²
1st Deck

Check rates

More info »
M Gloria Cruise: Itineraries & Routes
M'Gloria Cruise is one of the newest premier cruises in Halong Bay which is expected to come into operation in early 2020. Inspired by Indochine style with traditional sails from the outside look, M'Gloria Cruise, however, has a neoclassic interior design with elegant and modern facilities that ensures passengers an enjoyable stay during the voyage. Besides, passengers also have a chance to explore the tranquil and less touristy areas of Lan Ha Bay with an assortment of relaxing and challenging activities. When on the 5-star MGloria Garden Cruise, take delight in an unforgettable vacation through the magnificent natural wonder of Halong Bay.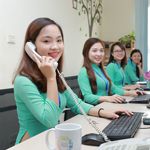 Being Halong bay cruise experts with over 10 years of experience.
Let us help you!
Halong Bay Cruises team is grateful to bring you a cruise vacation that will exceed your greatest expectations and offer you exceptional value. With the confidence and knowledge to find the right Halong bay cruise choice, we are always here to listen and arrange everything as your desire. Don't hesitate to send us your requests. We will send you the best offers shortly!
Help me find a cruise