What travelers love about Genesis Day Cruise
Style: Traditional
Enjoying around 5.5 hours on board in Halong Bay
Cruising along route 02 and going as far as overnight cruises
Visiting Sung Sot Cave, one of the the most beautiful caves in Halong Bay,
Kayaking/sampan in Luon Cave, a beautiful water tunnel
Using newest limousine modified van, traveling by NEW TOLL EXPRESSWAY Hanoi - Halong
Professional & experienced tour guide for whole trip
" The staff is very friendly, helpful and efficient. The bus taking you from your hotel to the pier is indeed luxury and boat itself is very nice too. Halong Bay itself is breathtaking and the itinerary was well planned with some of the most beautiful spots visited
Excellent 1 day tour - United States Read more... Hide
Select Genesis Day Cruise Packages with Best Offers
Genesis Day Cruise: Itineraries & Routes
Offering high-standard facilities and services such as brand new limousine van, iron trendy cruise or experienced guide on tour, Genesis Day Cruise is an ideal option for anyone seeking for a luxury cruise experience in the World Natural Wonder - Halong Bay. From amazing mountain cave exploration to bamboo sampan trip to hidden spots, a voyage with the professional Genesis team will surely bring to you memorable experiences as what 2-day trippers enjoy.






New iron vessels in traditional style
Genesis Day Cruise fleet consists of 03 new iron boats with boutique decoration and air-conditioner. Both restaurant and sundeck are designed with traditional materials and facilities such as silk, ceramic… that create a cozy atmosphere and cultural feel for travelers whenever on board. The music system is also equipped for lunchtime and sunset gathering.
Luxury van and short transfer time
Using luxury 16-seat limousine van modified from 29-seat bus, Genesis Day Cruise offers tourists an absolutely comfortable transfer between Hanoi and Halong Bay. This modern minivan is equipped with music, LCD screen for movie, USB charging port, free 4G wifi, etc. Besides, the cruise also transfers tourists by Hanoi - Haiphong - Halong expressways that helps the travel time reduces to around 02 hours.
Interesting Itinerary
With the aim to offer tourists the best experience in Halong Bay within a day, Genesis Day Cruise chooses the cruise route 02, the popular for overnight cruises. This route will take travelers to the most highlights of the Bay such as a lot of amazing karst islets, Sung Sot Cave, Luon Cave, etc.
Ba Trai Dao Islets consists of three small mountains with the height of 23 meters, which from afar resemble three giant peaches. This fact leads to the name Ba Trai Dao which literally means three peaches in Vietnamese. These islets are located 22 km away to the south of Bai Chay tourist wharf and near Cat Ba Island - Hai Phong...
Titov Island (also known as Titop Island) is one of the most popular destinations on Halong Bay located in the heart of Halong Bay, and only 8 kilometers south-east of Bai Chay Harbour. Many international and domestice visitors choose a day cruise or overnight cruise on the crowded Halong Bay instead of other lesser touristy bays because for...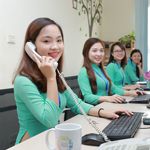 Being Halong bay cruise experts with over 10 years of experience.
Let us help you!
Halong Bay Cruises team is grateful to bring you a cruise vacation that will exceed your greatest expectations and offer you exceptional value. With the confidence and knowledge to find the right Halong bay cruise choice, we are always here to listen and arrange everything as your desire. Don't hesitate to send us your requests. We will send you the best offers shortly!
Help me find a cruise