What travelers love about Carina Cruise
Style: tradition
Traditional and cozy cruise
Entertaining guide.
Great cabins. Stayed on the top deck rooms with small balconies
Small cruise, only 9 cabins so customers are given great care from the cruise staff
Amazing food, out of the world: so much of fresh sea food.
Happy and enthusiastic crews: they would do anything to take care of you.
A lot of activities: visit a floating village, go swimming, visit Surprise cave…
Taking a very great care of customers
" This was a great cruise. The staff were exceptional and worked to meet our every need. Food was delicious, the activities were very interesting and I really liked kayaking. Highly recommend.
3 days 2 nights with Carina Cruise - Singapore Read more... Hide
Select Carina Cruise Packages with Best Offers
Carina Cruise: Itineraries & Routes
Launched in 2011, Carina Cruise is one of the most intimate cruises in Halong Bay. Featuring only 9 luxury en-suite cabins that fully equipped with modern amenities and facilities, Carina makes sure to bring passengers the comfort and convenience. With the generous size, passengers can set their mind in rest that they can keep privacy and not feel overcrowded. At the same time, the ship is also large enough to cater for a small group. Choosing Carina Cruise can help passengers access to less populated parts in Halong, help them feel not be trapped in multitude other boats and tourists.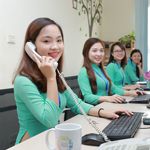 Being Halong bay cruise experts with over 10 years of experience.
Let us help you!
Halong Bay Cruises team is grateful to bring you a cruise vacation that will exceed your greatest expectations and offer you exceptional value. With the confidence and knowledge to find the right Halong bay cruise choice, we are always here to listen and arrange everything as your desire. Don't hesitate to send us your requests. We will send you the best offers shortly!
Help me find a cruise