What travelers love about Azalea Cruise
Style: Modern
5 star standard services with professional staff
Transferring only 2 hours driving from Hanoi to Azalea Cruise by luxury minivan
Ideal for families, couples or group of friends
Spacious luxurious cabins with full facilities and amenities
All Azalea Cruise cabins equipped with large private balconies for beautiful views of Halong Bay
Exploring "off the beaten track" route in Lan Ha Bay and Halong Bay
Visiting the amazing natural Trung Trang Cave
We were 3 days 2nights on Azalea Cruise and the staff were friendly and service was great. We had plenty of food which was delicious and our bar tender made great cocktails. Would highly recommend this cruise to see the beauty of Halong bay in a relaxing atmosphere.
Great Cruise in Halong Bay - Singapore Read more... Hide
Choose your package & check rates now
Room Types
Max
Rates

Deluxe Cabin With Balcony

Room with balcony

12 Rooms
Sea view
Double/twin
28 m²
First Deck

Check rates

More info »

Family Deluxe Cabin With Balcony

Room with balcony

Connecting room

2 Rooms
Ocean view
Family
56 m²
First Deck

Check rates

More info »

Premium Deluxe Cabin With Balcony

Room with balcony

6 Rooms
Ocean view
Double/twin
28 m²
Second Deck

Check rates

More info »

Family Premium Deluxe Cabin With Balcony

Room with balcony

Connecting room

2 Rooms
Ocean view
Double/twin
56 m²
Second deck

Check rates

More info »

Azalea Exclusive Suite

Room with balcony

2 Rooms
Ocean view
Double
45 m²
Second Deck

Check rates

More info »
Azalea Cruise: Itineraries & Routes
2
Days
Price from
$200 $180
3
Days
Price from
$324 $304
Azalea Cruise is one of the modern luxury 5* cruises in Halong bay, launched in November, 2017. Azalea Cruise is a steel ship with 20 luxurious suite cabins at the minimum size of 28sqm accommodating at most 4 guests (2 adults and 2 chidlren). All Azalea Cruise's cabins live up to the standards of a 5 star cruise in terms of facilities and amenities, and all equipped with private balconies for magnificent views of the World Natural Wonder - Halong Bay. Joining Azalea Cruise, you will be participating in activities such as kayaking, swimming, cave visiting whilst discovering the Bay in a totally "Off the beaten track" route. Besides all the advantages, Azalea Cruise highlights itself with a very short enjoyable travel from Hanoi to Hai Phong (Only 2 hours driving) in a 9 seater luxury minivan. With all these advantages and favorable points, Azalea Cruise will promisingly become a great alternative for ones who wish to enjoy Halong Bay in a different way.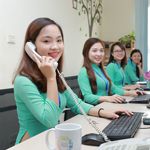 Being Halong bay cruise experts with over 10 years of experience.
Let us help you!
Halong Bay Cruises team is grateful to bring you a cruise vacation that will exceed your greatest expectations and offer you exceptional value. With the confidence and knowledge to find the right Halong bay cruise choice, we are always here to listen and arrange everything as your desire. Don't hesitate to send us your requests. We will send you the best offers shortly!
Help me find a cruise