What travelers love about Aphrodite Cruise
Launched in 2013 and regularly renovated and refurbished
Very caring and friendly services
High-quality cabin facilities
Service Dinner in private balcony and terrace (upon your request)
Excellent international and Vietnamese food
Kind and professional staff
Visit most popular Surprise Cave and Titop Island on Halong Bay
Modern waiting stop with free beverage and wifi (in the waiting lounge)
We booked Aphrodite Cruise in Halong Bay through Inside Travel and it was very good choice. Sophie from Inside Travel replied to all the questions and took care of our booking. We also had a WhatsApp contact to her when we needed. I highly recommend it if someone still doubting about booking with them.
Great stay in Halong Bay - United Kingdom Read more... Hide
Choose your package & check rates now
Aphrodite Cruise: Itineraries & Routes
2
Days
Price from
$160 $140
3
Days
Price from
$289 $269
Launched in 2013, Aphrodite Cruise has now become one of the highlights for visitors sightseeing Halong Bay. With luxurious cabins and appealing services, Aphrodite Cruise can be considered as a place of interest of your travel into Vietnam. Luxury cabins are decorated in European style combined with modern Western comforts. Treat yourself with a tour to Aphrodite Cruise, you may fully enjoy the best of your holiday.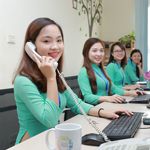 Being Halong bay cruise experts with over 10 years of experience.
Let us help you!
Halong Bay Cruises team is grateful to bring you a cruise vacation that will exceed your greatest expectations and offer you exceptional value. With the confidence and knowledge to find the right Halong bay cruise choice, we are always here to listen and arrange everything as your desire. Don't hesitate to send us your requests. We will send you the best offers shortly!
Help me find a cruise