What travelers love about Serenity Cruise
Style: Modern, Asian and Western style
A brand-new luxury 5-star cruise with 22 spacious cabins.
Reasonable price
Cycling in Viet Hai Village (Cat Ba Island)
Kayaking, swimming all included
High standard services with professional staff
Ideal for families, couples or group of friends
Enjoying Tai Chi session, cooking class on sundeck
Visiting Trung Trang cave, Cat Ba island
" The boat felt like a 5 star hotel with views from every room, private balcony and bath overlooking the bay. The itinerary and travel connections were well thought out, efficient and maximised the 2-day trip. The cruise was great, we couldn't be happier. Excellent food, nice and helpful Staff. I highly recommend this boat to my friends.
Absolutely amazing - Australia Read more... Hide
Select Serenity Cruise Packages with Best Offers
Room Types
Max
Rates

Junior Suite Cabin with Balcony

Room with balcony

0 Rooms
Sea view
Double/twin
25 m²
First Deck

Available

More info »

Senior Suite Cabin with Balcony

Room with balcony

0 Rooms
Sea view
Double/twin
25 m²
Second Deck

Available

More info »

Family Suite Cabin with Balcony

Room with balcony

0 Rooms
Sea view
Double/twin
45 m²
Third Deck

Available

More info »

Moon Suite Cabin with Balcony

Room with balcony

0 Rooms
Sea view
Double/twin
35 m²
Second Deck

Available

More info »

Terrace Moon Suite Cabin with Balcony

Room with balcony

0 Rooms
Sea view
Double/twin
45 m²
Third Deck

Available

More info »
Serenity Cruise: Itineraries & Routes
Serenity Cruise is a brand-new luxury 5-star cruise which is designed for style-conscious customers, who dream of floating on a calm, azure sea, among limestone peaks under the boundless sky. With 22 spacious cabins, various culinary that is a combination of Asian and Western style, plus unique itineraries which lead you to explore further in pristine Lan Ha Bay Serenity Cruise surely will bring you to an enjoyable trip to Halong - Lan Ha Bay with ultimate experiences.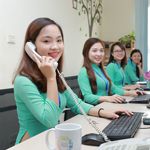 Being Halong bay cruise experts with over 10 years of experience.
Let us help you!
Halong Bay Cruises team is grateful to bring you a cruise vacation that will exceed your greatest expectations and offer you exceptional value. With the confidence and knowledge to find the right Halong bay cruise choice, we are always here to listen and arrange everything as your desire. Don't hesitate to send us your requests. We will send you the best offers shortly!
Help me find a cruise