What travelers love about Ambassador Day Cruise
Style: Modern
Most luxury day cruise in Halong Bay
Only 2.5 hours transfer from Hanoi - Tuan Chau by expressway
7 hours on cruise in Halong Bay
Unique itinerary: Visit Sung Sot Cave or hike at Titov island or kayak or bamboo boat at Luon Cave
Enjoy a luxury buffet lunch
Relax on spacious sundecks or outdoor Jacuzzi-pool
" sophie is very kind thanks to her I spent happy time with my family
I recommed halongbay tour though this travel agency:)
소피를 통해 하롱베이투어 예약했고 매우 만족해요. 가격도 저렴하고 친절해요. 친구들에게 추천하고싶습니다~
good expience, thanks to sophie - South Korea Read more... Hide
Select Ambassador Day Cruise Packages with Best Offers
Ambassador Day Cruise: Itineraries & Routes
Set sail in mid-2022, Ambassador Day Cruise is the largest day cruise on Halong Bay, with a capacity of 400 guests. The cruise ship inherited many successful features from the famous pioneer, Ambassador Overnight Cruises. Therefore, with only 7 hours on board, you still have a great chance to enjoy a wide range of high-standard facilities and top-notch Ambassador Concierge Service, as well as exciting experiences as what 2-day travelers try. If you have a short time to explore Halong Bay, but want the trip in luxury and style, Ambassador Day Cruise is definitely the number one choice.
Traveling with Ambassador, a leading cruise line
Just like the overnight cruises, Ambassador Day Cruise is one of the best and most luxury Halong Bay cruises. A voyage with Ambassador Cruise will include premium experiences and relaxing activities that allow you to discover the splendid beauty of Halong Bay at its fullest.
Indulging in a fine dining experience
A luxury buffet lunch is awaiting day trippers when traveling with Ambassador Day Cruise. You will have a fun time in a luxurious restaurant space with a journey to discover diverse international cuisines with quality ingredients and unique processing styles.
Experience a well-designed itinerary
An excursion with Ambassador Day Cruise is filled with amazing onboard and off-board activities. You can stay onboard and enjoy cool drinks from the bar and sundecks or immerse in the endless-view Jacuzzi pool. For adventure seekers, you will find yourself discovering Sung Sot Cave, hiking on Titov Island, or kayaking around Tung Sau Pearl Farm with a lot of fun.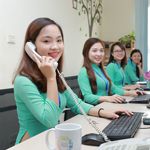 Being Halong bay cruise experts with over 10 years of experience.
Let us help you!
Halong Bay Cruises team is grateful to bring you a cruise vacation that will exceed your greatest expectations and offer you exceptional value. With the confidence and knowledge to find the right Halong bay cruise choice, we are always here to listen and arrange everything as your desire. Don't hesitate to send us your requests. We will send you the best offers shortly!
Help me find a cruise