What travelers love about Iris Day Cruise
Style:Modern
Luxurydaycruise in Halong Bay
Exciting 8-hourday tour and 5-hour sunset cruise in Halong Bay
Popular itinerary: Visit Sung Sot Cave, climb mountains at Titov island, and gokayaking or take sampan boat ride
Admire Halong Bay and the city's landmarks at sunset and night
Enjoy a sumptuousbuffet lunch or dinner
Modern and luxurious facilities: 2 restaurants, 2 bars on sundeck, 1 open-air Jacuzzi Pool
Select Iris Day Cruise Packages with Best Offers
Iris Day Cruise: Itineraries & Routes
Named after the flower of wisdom, nobility, faith and hope, as well as the famous Greek goddess of rainbow, Iris Cruise sets sail to the legendary Halong Bay with extraordinary inspiration. The cruise aims to create charming voyages and vibrant experiences for up to 99 guests on a luxurious and opulent ship. Tourist may choose to admire the breathtaking natural wonder in day time with popular stops like Sung Sot Cave and Titov Island, or explore the bay's highlights during the sunset and in the colorful lit night. Iris Cruise hopes to one day be a perfect cruise for the most lavish vacation that a day tripper may have.
Luxury and modern yacht design
Expected to be launched in the second half of 2023, Iris Day Cruise attracts your attention with a super modern yacht design. The cruise is 38,18 meters long, 9,18 meters wide, and 7,5 meters high with 3 decks, including the main deck, upper deck, and sundeck. The cruise is also well-equipped with 2 luxurious restaurants and 2 flexible mobile bars on the sundeck.
Hearty Asian-European dining experience
With 2 opulent restaurants in the main and upper deck, Iris Cruise provides the finest dining options with delicate and high-end menu. The fresh ingredients are from local sources and prepared by professional chefs into delectable dishes of Asian-European cuisines.
Fascinating onboard and offboard activities
Besides offering a popular itinerary in Halong Bay, including Sung Sot Cave and Titov Island, Iris Cruise keeps her passengers happy during the day with a wide range of exciting onboard activities, such as listening to live music from pianists and Filipino artists, enjoying sunset canapes on the sundeck, and immersing in the water of outdoor Jacuzzi Pool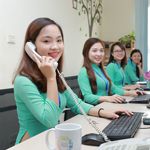 Being Halong bay cruise experts with over 10 years of experience.
Let us help you!
Halong Bay Cruises team is grateful to bring you a cruise vacation that will exceed your greatest expectations and offer you exceptional value. With the confidence and knowledge to find the right Halong bay cruise choice, we are always here to listen and arrange everything as your desire. Don't hesitate to send us your requests. We will send you the best offers shortly!
Help me find a cruise