What travelers love about La Casta Daily Cruise
Style: Modern
8 hours on cruise in Halong Bay with many activities
Visit Sung Sot Cave - the biggest and the most beautiful cave in the bay Explore the natural-made Luon Cave by kayaking
Hike to the Titov island's mountain top for the best views of Halong Bay
Enjoy a huge buffet lunch with various Vietnamese dishes
Relax on spacious sundecks and outdoor Jacuzzi pool
" Jessie was incredible- Quick to respond and really understood our needs.
We were looking for something which included 2 young kids and some specific needs and it was really no trouble for her to help us.
Jessie was polite, professional and I wouldn't hesitate to recommend her as a booking agent to anyone who needs travel advice and bookings in Hanoi.
5* service!
Jessie is a great agent, thank you! - Read more... Hide
Select La Casta Daily Cruise Packages with Best Offers
La Casta Daily Cruise: Itineraries & Routes
New Iron Trendy Cruise
La Casta Daily Cruise is a new and ideal choice for travelers to explore the best of Halong Bay. The iron cruise ship not only boasts high-standard facilities like a luxurious restaurant, a spacious sundeck, and an outdoor Jacuzzi pool, but also offers a high-quality reliable service that let you experience Halong Bay to the fullest.
Savor Vietnamese dishes with buffet on board
The well-designed restaurant is a wonderful place to admire the stunning views of Halong Bay through large glass windows. You will also have a great chance to taste a variety of dishes including seafood and Vietnamese traditional food with a huge buffet lunch onboard.
Extraordinary itinerary of up to 8 hours
With 8 hours onboard, La Casta Daily Cruise takes you in the most famous route ofthe World Heritage Site including Sung Sot Cave, LuonCave, andTitov Island, just the same as a 2-day itinerary of other cruises offers. Even when you prefer to stay onboard, the Jacuzzi pool or sunset party on the sundeck will keep you excited during the journey.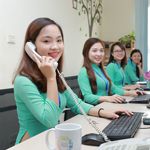 Being Halong bay cruise experts with over 10 years of experience.
Let us help you!
Halong Bay Cruises team is grateful to bring you a cruise vacation that will exceed your greatest expectations and offer you exceptional value. With the confidence and knowledge to find the right Halong bay cruise choice, we are always here to listen and arrange everything as your desire. Don't hesitate to send us your requests. We will send you the best offers shortly!
Help me find a cruise