What travelers love about Sea Octopus Day Cruise
Style: Modern

Unique concept of a

culinary cruise operating daily with a capacity of up to 200 guests

Exciting 4-hour and

7-hour itineraries experiencing the beauty of Halong Bay

Excellent facilities: 2

restaurants, 3 VIP dining rooms, 1 bar & lounge, 2 spacious sundecks

Discover the

quintessential of European and Asian cuisine, along with local specialties and
seafood dishes passionately prepared by professional chefs

Visit Sung Sot Cave and

Titov Island in 7-hour tour program
Select Sea Octopus Day Cruise Packages with Best Offers
Sea Octopus Day Cruise: Itineraries & Routes
Launching in February 2022 with a unique concept of a high-class culinary cruise, Sea Octopus soon becomes a new star of the day cruise segment on Halong Bay. Named after "Ruoc" - a small Octopus and one of the specialties in the heritage land, this daily operating cruise from Sealife Group promises an extraordinary gastronomy journey from European and Asian cuisine to local specialties and seafood dishes, all passionately prepared by professional chefs, and happening on an exciting day cruise program. Embark on the exclusive Sea Octopus to awaken all your senses and satisfy your taste buds with the natural beauty, the delightful taste, the grand facility, and the perfect service.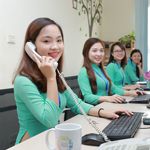 Being Halong bay cruise experts with over 10 years of experience.
Let us help you!
Halong Bay Cruises team is grateful to bring you a cruise vacation that will exceed your greatest expectations and offer you exceptional value. With the confidence and knowledge to find the right Halong bay cruise choice, we are always here to listen and arrange everything as your desire. Don't hesitate to send us your requests. We will send you the best offers shortly!
Help me find a cruise