What travelers love about Le Theatre Cruise
Style: Classic Luxury modern
5-star standard services
One of NEWEST luxurious cruises in Lan Ha Bay with ultimate luxurious facilities.
Elegant decor with luxury and comfortable room
Transferring only 2 hours driving from Hanoi by highway road
Visit off - beaten track Halong Bay - Lan Ha Bay
Cycling in Hai Viet village (Cat Ba Island) on the second day (apply for 3 days tour)
Kayaking, swimming, fishing all included
" Everything was perfect! We were picked up on time. The driver was a very good safe driver. The guide was outstanding. He was very knowledgeable and he spoke English perfectly. We started at the Taj Mahal then went to the Baby Taj and from there Agra Fort. We never felt rushe. E had plenty of time to Andre around and enjoy the beauty of these places. We love his photography skills and enjoyed eating brunch with him. Thank you for a wonderful day!!!
Knowledgeable guide, safe driver - United States Read more... Hide
Select Le Theatre Cruise Packages with Best Offers
Le Theatre Cruise: Itineraries & Routes
Redefines the luxury hospitality experience the Le Theatre Cruise is well-designed with emphasis on elegant simplicity and first-rate food, an airy refuge, our 23 luxurious cabins. Boarding on the Le Theatre cruise - a Wonder of Lan Ha Bay, guest can be overwhelmed by the luxury and sparkling of the restaurant, the elegant decor room style with fully modern equipment. Moreover, This cruise has offer water sport activities, including kayaking, swimming and fishing you and your family will definitely having wonderful experience on the world heritage.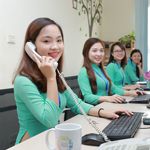 Being Halong bay cruise experts with over 10 years of experience.
Let us help you!
Halong Bay Cruises team is grateful to bring you a cruise vacation that will exceed your greatest expectations and offer you exceptional value. With the confidence and knowledge to find the right Halong bay cruise choice, we are always here to listen and arrange everything as your desire. Don't hesitate to send us your requests. We will send you the best offers shortly!
Help me find a cruise