What travelers love about Athena Royal Cruise
Style: Modern
One of the Newest Cruise on Halong Bay
Comtemporary and graceful decoration
Private Balcony guarantee in all cabins
Elegantly designed furniture including working desk, seating area, wardrobe
Amazing cruise route through Sung sot cave, Titov island, floating village,..
Top-notch wine list and wide variety of beverage
Helpful and enthusiastic staff
" Jessie from inside travel was very helpful and informative, the Athena Royal cruise was also fantastic with great staff
Fantastic - Australia Read more... Hide
Select Athena Royal Cruise Packages with Best Offers
Room Types
Max
Rates

Executive Suite with Balcony

Room with balcony

12 Rooms
Ocean view
Double/twin
25 m²
1st desk

Check rates

More info »

Elegance Suite with Balcony

Room with balcony

7 Rooms
Ocean view
Double/twin
28 m²

Check rates

More info »

Premium Terrace Suite

Room with balcony

2 Rooms
Ocean view
Double/twin
30 m²
Second Deck

Check rates

More info »

Athena Royal Suite with Balcony

Room with balcony

1 Rooms
Ocean view
Double
45 m²
Third Deck

Check rates

More info »
Athena Royal Cruise: Itineraries & Routes
Inspired by the spirit of Athena, the legendary Greek Goddess of Wisdom, Craftsmanship, and Victory, Athena Royal Cruise is one of the best 5-star cruise ships that explore the majestic Halong Bay. With a modern and luxurious design, the vessel consists of three decks, including 21 cabins, a reception & boarding area, an indoor restaurant and bar, a rooftop sundeck with open bar, coffee lounge, spa and sauna. On the Athena Luxury Cruise, you will receive VIP treatments and services from friendly and professional staff who are always dedicated to your safety and enjoyment. If you are looking for a cruise vacation for any special moment such as a family outing, honeymoon, anniversary, company retreat, business meeting or romantic getaway, Athena Luxury Cruise is your perfect choice. Let us make your dream trip a reality and give you the adventure you desire.

Located among plenty of islands on Bai Tu Long Bay, Vung Vieng fishing village (also called Vong Vieng) impresses visitors as an off-the-beaten-track destination on your path of discovering the world heritage site Halong.Vung Vieng fishing village belongs to the Vung Ha archipelago located in the important protection...
Thien Canh Son is a rather unspoiled cave located on Bai Tu Long Bay in the Cong Do Conservation Area. The cave is well known for its unique natural beauty and picturesque surrounding scenery, which allure thousands of visitors coming to this off-the-beaten-track area of the World Heritage Site.Inside the cave,...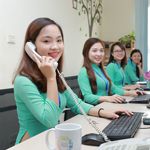 Being Halong bay cruise experts with over 10 years of experience.
Let us help you!
Halong Bay Cruises team is grateful to bring you a cruise vacation that will exceed your greatest expectations and offer you exceptional value. With the confidence and knowledge to find the right Halong bay cruise choice, we are always here to listen and arrange everything as your desire. Don't hesitate to send us your requests. We will send you the best offers shortly!
Help me find a cruise