What travelers love about La Casta cruise
Style: Modern with contemporary design
A new member to the Halong-Lan Ha Bay fleets' luxury segment
Distinctive and fun-filled Lan Ha Bay discovery with less-touristy spots
All cabin types have a private balcony and a full-framed window overlooking the bay
Chill out on the outdoor Jacuzzi pool and Skybar on the third deck
Only 2.5 hours of transfer between Hanoi and Halong through the modern highway
Cabins with connecting doors suitable for families and groups
Join a variety of thrilling activities: kayaking, boating, cycling, Tai-Chi session, cooking demonstration, etc.
Select La Casta cruise Packages with Best Offers
Room Types
Max
Rates

Junior Suite

Room with balcony

Connecting room

12 Rooms
Ocean view
Double/twin
30 m²
First floor

Check rates

More info »

Senior Suite

Room with balcony

5 Rooms
Ocean view
Double/twin
30 m²
Second floor

Check rates

More info »

Family Triple Suite

Room with balcony

2 Rooms
Ocean view
Double/twin
40 m²
Third deck

Check rates

More info »

VIP Suite/Honeymoon Suite

Room with balcony

3 Rooms
Ocean view
Double/twin
50 m²
Second/Third floor

Check rates

More info »
La Casta cruise: Itineraries & Routes
A contemporary-styled cruise with a distinctive itinerary, La Casta Cruise will take you to the most well-known area of Halong Bay from Tuan Chau International Marina before entering the beautiful Lan Ha Bay, a forgotten treasure in the southern part of the World Heritage Site. The cruise promises the greatest experience you can have in the bay with 22 opulent cabins on board, the smallest of which is 30 sqm. All guestrooms on the La Casta Cruise also provide a full-framed glass window and a private balcony so you can take in a panoramic view of the bay. On the voyage with La Casta, a ton of exciting activities await you, like kayaking, swimming, squid fishing, cooking lesson, etc. Come on a trip with us to see the breathtaking seascapes of Halong Bay and Lan Ha Bay.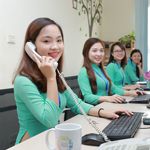 Being Halong bay cruise experts with over 10 years of experience.
Let us help you!
Halong Bay Cruises team is grateful to bring you a cruise vacation that will exceed your greatest expectations and offer you exceptional value. With the confidence and knowledge to find the right Halong bay cruise choice, we are always here to listen and arrange everything as your desire. Don't hesitate to send us your requests. We will send you the best offers shortly!
Help me find a cruise