What travelers love about Erina Cruise
Style: Modern
Only 2.5 hours driving from Hanoi Center on high way roads to Tuan Chau Marina
Participate in interesting activities: kayaking, swimming, cave visiting, cooking class, especially relaxing Tai Chi
Cycling in Viet Hai village (Cat Ba Island) on the second day (apply for 3 days tour)
Kayaking, swimming all included
All rooms are spacious designed, with private balcony
Ideal for families, couples or group of friends
Friendly and helpful staff
" 非常棒的体验,值得推荐的两天一晚的下龙湾之旅,服务很棒,服务人员非常热情,,下次还会从这家公司进行预订,行程安排妥当,令人满意,是一次令人难忘的旅行,我们所有十个朋友都非常满意,相当不错


非常棒的体验 - Read more... Hide
Select Erina Cruise Packages with Best Offers
Room Types
Max
Rates

Junior Balcony Suite

Room with balcony

7 Rooms
Sea view
Double/twin
36 m²
1st Deck

Check rates

More info »

President Suite with Terrace

Room with balcony

1 Rooms
Sea view
Double
155 m²
2nd deck

Check rates

More info »

Senior Balcony Suite

Room with balcony

16 Rooms
Ocean view
Double/twin
36 m²
2nd deck

Check rates

More info »

Honeymoon Suite

Room with balcony

1 Rooms
Sea view
Double
28 m²
3rd floor

Check rates

More info »
Erina Cruise: Itineraries & Routes
Erina Cruise is your perfect venue to explore the beauty of Halong Bay - Lan Ha Bay, Vietnam's premier natural attraction. With 27 beautifully appointed suites, top-notch facilities, and excellent services, Erina Cruise proudly brings to passengers brand new and unforgettable experiences such as unique cuisine in cooking demonstration sessions, Tai Chi lession, Squid fishing or Open Jacuzzi on the sundeck. Let's cruise with Erina Cruise and discover special things in your amazing voyage.
FINE DINING EXPERIENCE
Featuring two restaurants onboard, the FISHNET Restaurant on the first deck and the DRAGON LEGEND Restaurant on the third deck with the total capacity of 120 guests, the Erina Cruise promises passengers an exquisite cuisine and unforgettable dining experience.
UNIQUE COOKING DEMONSTRATION SESSION
Unlike many other cruises, traveling with Erina Cruise will make your trip even more memorable with a unique traditional cuisine which is truly belonged to the Sea. It's cooking demonstration with the extraordinary recipe of "Cuon Ca Thinh" in the Dragon Legend Restaurant on the third deck. You will be presented about the origin and meaning of the dish and also learn about how to make this dish with the main ingredients: fresh fish, ground fried rice, various kinds of fresh herbs, and sauce. It's truly cultural experience and beyond a common cooking class.
RECREATIONS
Erina Cruise offers a wide range of recreations during the voyage, from the Sky Bar beside the outdoor Jacuzzi, Ocimum Spa to Squid Fishing, Kayaking/ rowing boat and Cave visit. All will make your cruise vacation a wonderful experience of a lifetime.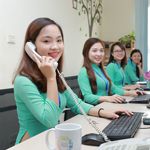 Being Halong bay cruise experts with over 10 years of experience.
Let us help you!
Halong Bay Cruises team is grateful to bring you a cruise vacation that will exceed your greatest expectations and offer you exceptional value. With the confidence and knowledge to find the right Halong bay cruise choice, we are always here to listen and arrange everything as your desire. Don't hesitate to send us your requests. We will send you the best offers shortly!
Help me find a cruise