What travelers love about UniCharm Cruise
Style: Modern style
4-star standard services with professional staff
Transfer only 2 hours driving from Hanoi to Got Ferry
Ideal for families, couples or group of friends
Enjoy breathtaking view from the top of Cat Ba Island – Ngu Lam Peak
Comfortable luxurious cabins with full facilities and amenities
Exploring "off the beaten track" route in Lan Ha Bay and Halong Bay
Visiting and cycling at Viet Hai village on the second day
Interesting activities in Unicharm Cruise's itineraries: Kayaking, swimming, biking, trekking, squid fishing and cooking demonstration
" We have just returned from an amazing holiday in Vietnam. One of the highlights was our 2 night Cruise on the Uni Charm cruise ship organised by Jessie. Jessie offered a very professional service and arranged an amazing holiday. She provided assistance with getting our extended visa's as well.. Highly recommend using inside travel.
Great service and very helpful - Read more... Hide
Select UniCharm Cruise Packages with Best Offers
Room Types
Max
Rates

Deluxe Sea view

Room with balcony

16 Rooms
Ocean view
Double/twin
20 m²
First floor, second floor

Check rates

More info »

Charm Terrace

Room with balcony

Connecting room

4 Rooms
Panoramic view
Double
30 m²
Second floor and Third floor

Check rates

More info »

Family Connecting

Room with balcony

Connecting room

3 Rooms
Panoramic view
Double/twin
50 m²
Second Floor and third floor

Check rates

More info »
UniCharm Cruise: Itineraries & Routes
Launched in April 2018, UniCharm Cruise is among a few 4-star cruises in Lan Ha Bay. With many years of experience in the cruising industry in Halong Bay, this fascinating cruise will surely bring you memorable voyages in the World Heritage Site. Especially customizing the unique route to discover the hidden beauty of Cat Ba Island and Lan Ha Bay, UniCharm Cruise is a great option for nature and adventure lovers. The cruise also offers 20 fully-furnished cabins modern amenities and standing balconies, terraces for the spectacular views of this surreal seascape.
Viet Hai is a famous fishing village on Cat Ba Island, Cat Hai district, Hai Phong Province which attracts a large number of tourists due to the original and unique natural landscape and friendly people. Often included in the cruises' 3 day 2 night itinerary on Lan Ha Bay, the cycling experience along the...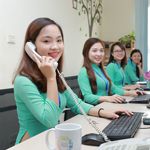 Being Halong bay cruise experts with over 10 years of experience.
Let us help you!
Halong Bay Cruises team is grateful to bring you a cruise vacation that will exceed your greatest expectations and offer you exceptional value. With the confidence and knowledge to find the right Halong bay cruise choice, we are always here to listen and arrange everything as your desire. Don't hesitate to send us your requests. We will send you the best offers shortly!
Help me find a cruise