What travelers love about Rosy Cruise
Style: Elegantly contemporary
Managing overnight itineraries visiting Halong - Lan Ha Bay
Fast, shortened, and convenient transfer via the new express highway within around 2.5 hours
Private balcony accommodated all cabin types
Various options for families or groups with connecting, family rooms, triple rooms, etc.
En-suite bathroom with both stand-up shower and bathtub
Seasonal outdoor jacuzzi on the second deck with a panoramic view of the surrounding beautiful landscapes
Explore Cat Ba Island by cycling to visit Viet Hai Village (3 days 2 nights only)
Leisure activities whilst contemplating the serenity of nature in Halong - Lan Ha Bay: swimming, kayaking or boating, etc
" Jessie and the team at Inside Travel are fantastic. Helped us book our Halong Bay tour with Rosy Cruises and ensured the experience was exceptional. Great communication and follow-up.
Five Star Experience - United States Read more... Hide
Select Rosy Cruise Packages with Best Offers
Room Types
Max
Rates

Junior Suite With Private Ocean View Balcony

Room with balcony

Connecting room

6 Rooms
Ocean view
Double/twin
28 m²
First Deck

Check rates

More info »

Senior Suite With Private Ocean View

Room with balcony

Connecting room

6 Rooms
Ocean view
Double/twin
28 m²
Second Deck

Check rates

More info »

Luxury Suite With Private Ocean View Balcony

Room with balcony

2 Rooms
Ocean view
Double
40 m²
Second Deck

Check rates

More info »

Honeymoon Suite With Private Terrace

Room with balcony

2 Rooms
Sea view
Double
55 m²
Second Deck

Check rates

More info »

Connecting Junior Suite With Private Ocean View

Room with balcony

Connecting room

2 Rooms
Ocean view
Double/twin
56 m²
First Deck

Check rates

More info »

Connecting Senior With Private Ocean View

Room with balcony

Connecting room

2 Rooms
Ocean view
Double/twin
56 m²
Second Deck

Check rates

More info »
Rosy Cruise: Itineraries & Routes
Rosy Cruise is one of the luxurious 5-star cruises managing overnight programs in Halong - Lan Ha Bay, which is well-known for beautiful karst formation over the calm emerald water. Guests are welcomed into the Rosy Family, where an authentic comradeship is enjoyed by all making your vacation an exclusive and unforgettable adventure. Offering unique itineraries that help passengers explore the natural beauty of the UNESCO Heritage Sites in many untouched areas, Rosy Cruise promisingly exceeds your expectations through numerous exciting activities and experiences both onboard and off-board.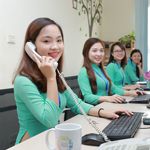 Being Halong bay cruise experts with over 10 years of experience.
Let us help you!
Halong Bay Cruises team is grateful to bring you a cruise vacation that will exceed your greatest expectations and offer you exceptional value. With the confidence and knowledge to find the right Halong bay cruise choice, we are always here to listen and arrange everything as your desire. Don't hesitate to send us your requests. We will send you the best offers shortly!
Help me find a cruise