What travelers love about La Regina Grand Cruise
Style: colonial Indochine
Well trained crew with warm-hearted care
All spacious suites with full ocean view & private balcony
World class luxury & modern comfort facilities
Exciting onboard and off board activities
Unique cruise experience with longest & best iconic attractions of the Bays
Luxury restaurant with the capacity of 100 guests
Dinning with highlight of Vietnamese enriched cuisine
Ideal option for family holidays, honeymoons, friend trips
Dynamic, well trained and dedicated staff
" I have an amazing experience with La Regina Grand. I would highly recommend to all. I was lucky the weather was nice because I went during rainy season. Positive - Schedule on time - Amazing room w/ Balcony - Good food Negative - Not much to say I booked online and thanks to Sophie, she was attentive and very helpful.
Amazing Experience - Vietnam Read more... Hide
Select La Regina Grand Cruise Packages with Best Offers
Room Types
Max
Rates

Bai Tu Long Suite

Room with balcony

Connecting room

12 Rooms
Ocean view
Double/twin
45 m²
First Deck

Check rates

More info »

Ha Long Suite

Room with balcony

5 Rooms
Ocean view
Double/twin
45 m²
Second Deck

Check rates

More info »

Lan Ha Suite

Room with balcony

5 Rooms
Ocean view
Double/twin
45 m²
Third Deck

Check rates

More info »

Lan Ha Trio Suite

Room with balcony

1 Rooms
No view
Single
54 m²
Third Deck

Check rates

More info »

Lan Ha Junior Suite

Room with balcony

2 Rooms
Ocean view
Double
60 m²
Third Deck

Check rates

More info »

Lan Ha Duplex Suite

Room with balcony

1 Rooms
Ocean view
Double
90 m²
Second and Third Deck

Check rates

More info »

Lan Ha Grand Suite

Room with balcony

1 Rooms
Ocean view
Double
135 m²
Third Deck

Check rates

More info »
La Regina Grand Cruise: Itineraries & Routes
Designed in an elegantly colonial Indochine style of the 1930s, La Regina Grand Cruise is the latest member of the well-known La Regina Cruises Fleet. Following her sister La Regina Legend, this cruise offers passengers unique voyages in the picturesque Lan Ha Bay as well as the natural excursions in Cat Ba Island. As one of the newest luxury cruises in the Bay, La Regina Grand Cruise houses 27 spacious, well-furnished suite cabins with full amenities and private balconies for spectacular panorama of the Bay. The cruise also provides other modern facilities such as a classy restaurant, bistro bar, spa and gym rooms, and library that guarantee passengers an extremely relaxing and enjoyable stay during the voyage.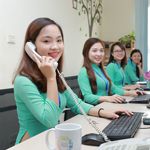 Being Halong bay cruise experts with over 10 years of experience.
Let us help you!
Halong Bay Cruises team is grateful to bring you a cruise vacation that will exceed your greatest expectations and offer you exceptional value. With the confidence and knowledge to find the right Halong bay cruise choice, we are always here to listen and arrange everything as your desire. Don't hesitate to send us your requests. We will send you the best offers shortly!
Help me find a cruise