What travelers love about Indochine Cruise
Style: Modern luxurious style
One of the newest and the biggest cruises in Halong Bay
Transferring only 2,5 hours driving from Hanoi to Indochine Cruise
Discover the wonders of Cat Ba Island – Lan Ha Bay's most iconic resident.
Private balcony guaranteed in each cabin
Explore one of the most curious attractions in the whole bay – the famous Bat Cave (Light and Dark cave).
Cycling is the perfect activity to explore Viet Hai and is one of the popular highlights of our luxury Lan Ha cruise.
" We took a 2 days trip for the Indochine Cruise at Lan ha Bay. we went kayaking at one of the caves, which was extremely fun. We had set menu instead of buffet due to limited guests on board, it was very nice especially the tuna tartare. The room, a superior cabin was very comfortable, the staff is very professional and very friendly, always concern into offer the best customer experience possible. The food was really good as well.
I will never forget the experience and will definitely do it again, when I return to Vietnam.
Amazing experience in Halong Bay - Switzerland Read more... Hide
Select Indochine Cruise Packages with Best Offers
Room Types
Max
Rates

Junior Suite

Room with balcony

32 Rooms
Sea view
Double/twin
32 m²
Main Deck & Upper Deck

Available

More info »

Suite Cabin

Room with balcony

8 Rooms
Sea view
Double/twin
42 m²
3rd Floor

Available

More info »

Executive Suite Cabin

Room with balcony

2 Rooms
No view
Double/twin
54 m²
2nd Floor

Available

More info »

President Suite Cabin

1 Rooms
Sea view
Double/twin
80 m²
3rd Floor

Available

More info »

Family Triple Cabin

Room with balcony

1 Rooms
Sea view
Double/twin
54 m²
1st Floor

Available

More info »
Indochine Cruise: Itineraries & Routes
Joining the Indochina Sails fleet as the latest member, Indochine Cruise is proud to be one of the newest and biggest ships cruising within Lan Ha Bay, a gorgeous and tranquil sea part besides Halong and Bai Tu Long Bay. The vessel houses 43 spacious cabins decorated with traditional Indochinese maritime heritage as an '80s flashback and all with equally large balcony that provides perfect panoramic views of Lan Ha Bay. Launched in early 2019, Indochine Cruise offers guests the best services and facilities following the highest of international standards, including Cochinchine Lounge, Tonkin restaurant, modern meeting conference room, cozy library, professional Spa & Massage and GYM room. Embarking the voyage with Indochine Cruise, you will not only stay close to the pristine beauty of Lan Ha Bay but also have a touch of authentic French Indochinese heritage and enjoy outstanding luxury experiences in true style.

Dark and Bright Cave is a part of Lan Ha Bay which is well known for the stunning limestone structure and the interesting natural habitat. Also belonging to Cat Ba National Park, this amazing place is very suitable for tourists who are interested in kayaking and passion to nature. The whole area is divided into two...
Trung Trang Cave is dubbed a masterpiece of Mother Nature dedicated exclusively to Cat Ba Island. Located in Trung Trang valley about 15 km northwest of Cat Ba town, Trung Trang Cave is 300 meters long and passes through the mountain, having a capacity of hundreds of visitors at the same time. Trung Trang Cave takes visitors from this...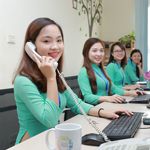 Being Halong bay cruise experts with over 10 years of experience.
Let us help you!
Halong Bay Cruises team is grateful to bring you a cruise vacation that will exceed your greatest expectations and offer you exceptional value. With the confidence and knowledge to find the right Halong bay cruise choice, we are always here to listen and arrange everything as your desire. Don't hesitate to send us your requests. We will send you the best offers shortly!
Help me find a cruise