What travelers love about Aspira Cruise
Style: elegant and modern
Well-accommodated facilities along with finest amenities
Spacious cabins with private balconies, large windows, and en-suite bathrooms
Connecting rooms for groups or families
Various cuisine, especially serving Halal and Kosher food for Muslims
Available gym and spa treatment onboard
Itineraries to less touristy areas in Halong - Lan Ha Bay
Fast and innovative transfer with shuttle service following the new 5B Highway
" We booked our Halong Bay cruise on Aspira Cruises with Inside Travel. I cannot express how helpful Ms. Sophie was before and during our trip. We had an issue with our visas and she went above and beyond to assist us. She checked in with us along the way and made sure everything was going according to schedule. Would highly recommend working with Inside Travel. Takes all the guests work out!


Top notch customer service! - Read more... Hide
Select Aspira Cruise Packages with Best Offers
Room Types
Max
Rates

Junior Suite with private balcony

Room with balcony

Connecting room

8 Rooms
Sea view
Double/twin
32 m²
Main Deck

Check rates

More info »

Triple Junior Suite with private balcony

Room with balcony

2 Rooms
Sea view
Triple
32 m²
Main Deck

Check rates

More info »

Senior Suite with private balcony

Room with balcony

8 Rooms
Sea view
Double/twin
32 m²
Second Deck

Check rates

More info »

Executive Suite with private sun terrace

Room with balcony

1 Rooms
Sea view
Double/twin
55 m²
Second Deck

Check rates

More info »

President Suite with private sun terrace

Room with balcony

2 Rooms
Sea view
Double
55 m²
Second Deck

Check rates

More info »

Connecting Junior Suite with private balcony

Room with balcony

Connecting room

3 Rooms
Sea view
Double/twin
64 m²
Main Deck

Check rates

More info »

Executive Family Suite with private sun terrace

Room with balcony

1 Rooms
Sea view
Triple
55 m²
Second Deck

Check rates

More info »
Aspira Cruise: Itineraries & Routes
Expected to be launched in spring 2020, Aspira Cruise is the sister cruise of Lavender Cruise in Halong Bay that is famous for its excellent service and great activities among mid-range cruises. Focusing on the luxury segment and less touristy itineraries in Lan Ha Bay, Aspira Cruise not only features modern and elegant style but also possesses unique points with serving Halal and Kosher food, which only a few cruises in Halong - Lan Ha Bay could offer. Maintaining professionalism from its forerunner in Halong Bay, Aspira Cruise is a new option for anyone seeking a wonderful trip to Lan Ha Bay, the extension of the UNESCO Heritage Site.
Halal and Kosher Menu
All cruises could arrange special food following your diet requirements. But there are only a few cruises in Halong - Lan Ha Bay offers a very special kind of food: Halal and Kosher, but Aspira Cruise does. Therefore, Aspira hopes to give the best experience for Muslim guests instead of only serving vegetarian menus while they're enjoying the trip on the cruise.
Modern facilities and elegant style
With 22 spacious cabins, Aspira Cruise offers 5 different cabin types with spacious areas, private balconies, en-suite bathroom, and stylish design. Also, the ship is featured modern facilities that assure your safety condition and luxurious ambiance. All promises a great satisfaction to all of you right from the first step getting onboard.
Less-crowded overnight itineraries
With cruise programs traversing mainly Lan Ha Bay, an extension of Halong Bay, Aspira Cruise will take you to the quieter parts of the bay with various onboard and off-board activities such as kayaking, swimming, sunbathing, cycling, boating, tai-chi session, cooking class, etc.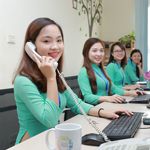 Being Halong bay cruise experts with over 10 years of experience.
Let us help you!
Halong Bay Cruises team is grateful to bring you a cruise vacation that will exceed your greatest expectations and offer you exceptional value. With the confidence and knowledge to find the right Halong bay cruise choice, we are always here to listen and arrange everything as your desire. Don't hesitate to send us your requests. We will send you the best offers shortly!
Help me find a cruise