What travelers love about Bhaya Legend 2 Cruise
Style: Modern + traditional Vietnamese
Be the maximum of privacy during trip, which is an awesome option for honeymooners, family and close members: maximum 02 adults + 1 child under 12 years old per boat
Service is recognized as the 4 star quality standard
Decoration is bright, impressive
Food and drinks are so lovely
Staff is professional, helpful and friendly
Be a perfect journey which includes all must-see sites: Cave, beach, fishing village.
" We had 3 days in Halong Bay with Bhaya Legend 2 and everything exceeded our expectations. We really enjoyed the tour and the scenery was amazingly beautiful with world-class level. The standard of cabin was excellent and we had the first class experiences in the dining of breakfast, lunch and dinner. The staff was nice and friendly. They took care of us thoughtfully with their deep heart. We will choose it again the next time.
Good - Small Group - Singapore Read more... Hide
Select Bhaya Legend 2 Cruise Packages with Best Offers
Room Types
Max
Rates

Legend Suite

Room with balcony

2 Rooms
Ocean view
Double/twin
20 m²
Main deck

Check rates

More info »

Legend Suite

Room with balcony

2 Rooms
Ocean view
Double/twin
20 m²
Main deck

Check rates

More info »
Bhaya Legend 2 Cruise: Itineraries & Routes
With the unique feature- a single deck design with a semi-covered dining area offering the greatest views, Bhaya Legend 2 is the best combination of oriental style, tourism and culture. You will have the most memorable moments and have great chance to catch numerous wonderful views when join with us in this exclusive, private and customized charter cruise.
Explore the most famous spots in Halong with flexible itinerary
Due to the itinerary you choose, you can explore different parts of Halong Bay. Some of these are the most famous destinations of the bay such as Sung Sot Cave, and others are lesser known to common tourists like the floating fishing village of Vung Vieng. Plus, you can even set up your own trip on this natural wonder of over 3,000 islets, which is indeed appealing.
Entertainment on-board will meet your requirement
Apart from discovering Halong Bay in your own way, your requirements on entertainment will be met with the help from services of Bhaya Legend II. There are a wide variety of options for you to choose, from water sports such as snorkeling or squid fishing to theme party provided upon request.
Bar & Restaurant promise to bring guests the momorable moments on board
Together with excellent routines, a wonderful trip always comes with delectable foods and enjoyable drinks. On the Bhaya Legend II cruise, both Vietnamese and international dishes are served. For three on-board meals (brunch, lunch and dinner), fresh and delicious seafood are carefully chosen. In addition, non-alcohol drinks like coffee and tea are free, and alcohol ones like wine and cocktails require extra charge.
Thien Cung Cave (also known as Heavenly Palace Cave) is located north of Dau Go Island, 4 km from the tourist port. As one of the most beautiful caves on Halong Bay thanks to its huge space area, there are many chambers inside with numerous limestone stalactites and stalagmites in strange shapes.Located right near Dau Go cave, the cave is...
Dau Go Cave is one of the most beautiful caves on Halong Bay, located on Dau Go Island about 6 km from Bai Chay Harbour and only 300 meters from Thien Cung Cave. The cave has the ancient and unspoiled beauty with many stalagmites in special and strange shapes.Located at 27 meters above sea level, the cave entrance is...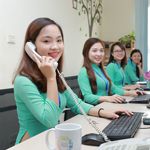 Being Halong bay cruise experts with over 10 years of experience.
Let us help you!
Halong Bay Cruises team is grateful to bring you a cruise vacation that will exceed your greatest expectations and offer you exceptional value. With the confidence and knowledge to find the right Halong bay cruise choice, we are always here to listen and arrange everything as your desire. Don't hesitate to send us your requests. We will send you the best offers shortly!
Help me find a cruise