What travelers love about Jasmine Cruise
Passengers might find Jasmine Cruise's decoration and itinerary focus on recalling people of the old time, bringing Vietnamese cultures and history to exotic travellers (Just like the name of the company - Heritage line)
Style: Boutique and Classic
Highlights in facilities: Large but still private restaurant, impressive public terrace and huge sundeck.
Passengers' privacy is always noticed.
Itinerary is not too busy but still covers enough activities to explore Halong Bay beauty (Cua Van Fishing Village, Visit Tien Ong Cave and Titov island)
We booked the Jasmine cruise with INSIDE TRAVEL but because we were on route home from New Zealand the travel, hotel and transfer arrangements were quite complicated and from a distance a little worrying. We should not have been concerned.The Jasmine two night cruise was brilliant even though the weather was not kind. the Chanceldony Hotel in central Hanoi was very good and the transfer/travel arrangements first class. Well Done INSIDE TRAVEL and especially your agent Miss Trang. She answered all our questions and concerns perfectly.
Well done Happy Travel - United Kingdom Read more... Hide
Choose your package & check rates now
Jasmine Cruise: Itineraries & Routes
2
Days
Price from
$215 $185
3
Days
Price from
$346 $316
Jasmine Cruise started its first voyage at the end of 2007. Being the second of the "Three Sisters" operated by Heritage Line in Halong Bay (besides Violet and Ginger Cruise), Jasmine Cruise is the gracious middle-child, built in the style of a traditional Vietnamese junk, with three tawny sails and dark wood-cladding and the decoration in 1930's Indochina style. Consisting of 23 cabins, impressive restaurant and gorgeous bar, large terrace and huge sundeck, spa and massage rooms, the cruise provides large and luxurious spaces for tourists to relax and enjoy the holiday. Visitors looking for comfort and relaxation in Halong Bay will appreciate the Jasmine's friendly crew and understated elegance. The Cruise is definitely a perfect choice for travelers who want to escape from the bustle and hustle of city life and enjoy peaceful moments in Halong Bay.


Located on Bo Hon Island about 14 km southeast of Tuan Chau Island and only 1 km from Sung Sot Cave, Luon Cave is the paradise of spectacular nature and dreaming landscapes. It is not a cave you can walk into but an open gate visitors can only travel by boat to get here. The area is essentially a group of islands that build a brackish lake...
Located in the central area of the bay in Bo Hon Island, Sung Sot Cave is the most beautiful and spacious cave which is one of must-visit attractions in Halong Bay. Covering a total area of over 10,000 square meter, Sung Sot cave is described as an "Opera House" with thousands of magic stalactites and stalagmites in various...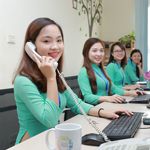 Being Halong bay cruise experts with over 10 years of experience.
Let us help you!
Halong Bay Cruises team is grateful to bring you a cruise vacation that will exceed your greatest expectations and offer you exceptional value. With the confidence and knowledge to find the right Halong bay cruise choice, we are always here to listen and arrange everything as your desire. Don't hesitate to send us your requests. We will send you the best offers shortly!
Help me find a cruise